THE STROKER THAT ALLOWS YOU TO APPLY PRESSURE WHERE YOU WANT IT!
By overwhelming fan demand, JJ Knight -- your favorite southern boy from Memphis turned furniture-smashing Men.com star -- joins the Man Squeeze lineup with a variable pressure hard-case stroker molded directly from his ass. Handcrafted in lifelike ULTRASKYN™, JJ's Man Squeeze features a tight, textured interior that warms to the touch and feels just like the real thing.
Each Man Squeeze features a different internal texture and a user-controlled squeeze plate, making your experience as unique as each of our sexy stars. The double-cap hardshell design doubles as a discreet travel and storage case, keeping your Man Squeeze fresh and ready for whenever the mood strikes.
UNIQUELY TEXTURED ULTRASKYN™ MASTURBATOR WITH HARD OUTER CASE

Molded Directly from MEN.com Superstar JJ Knight

Lifelike ULTRASKYN Warms to the Touch

End Cap Twists to Adjust Suction Strength

Squeeze Plate Allows User to Control Pressure

Screw-on Top for Discreet Storage

Fully Disassembles for Cleaning

Phthalate-Free, Body-Safe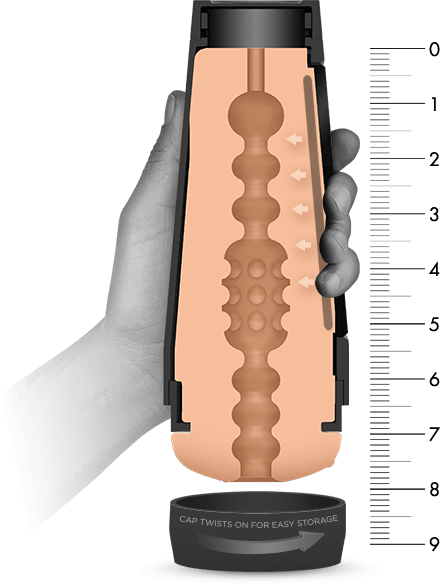 PLEASURE CONTROL IN THE PALM OF YOUR HAND
APPROXIMATE PRODUCT DIMENSIONS:
TOTAL LENGTH - 9" (22.9 cm)
USABLE LENGTH - 8.75" (22.2 cm)
WIDTH - 3.5" (8.9 cm)
CIRCUMFERENCE - 10.5" (26.7 cm)
UNLIKE OTHER HARD CASE STROKERS ON THE MARKET, OUR UNIQUE SQUEEZE PLATE DESIGN ALLOWS YOU TO PRECISELY CONTROL THE PRESSURE WHILE STROKING
AIRTIGHT END CAP TWIST TO CONTROL SUCTION
LOOSEN CAP TO ALLOW AIRFLOW AND DECREASE SUCTION
TIGHTEN CAP TO CREATE INTENSE SUCTION WHILE YOU STROKE
A STRONG EXTERIOR CASE AND SCREW-ON TOP KEEP IT CLEAN, DISCREET AND CONVENIENT FOR TRAVEL.
PLAY PRODUCT VIDEO