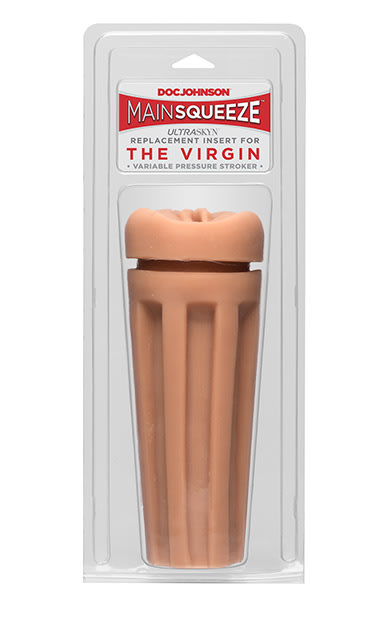 FOR USE WITH A VARIABLE PRESSURE ULTRASKYN STROKER
Make every time feel like the first time. This ULTRASKYN™ insert for use in Doc Johnson's Main Squeeze: The Virgin hard case masturbator features the same extra-tight interior and realistic breaking hymen included with the full product.
Main Squeeze is designed to put the power in your hands, featuring several unique shapes and interior textures, a squeezable grip that lets users vary the tightness of each stroke, and a suction-adjusting end cap.
Extra-Tight With Realistic Hymen

For Use In Main Squeeze™ Hard-Case Strokers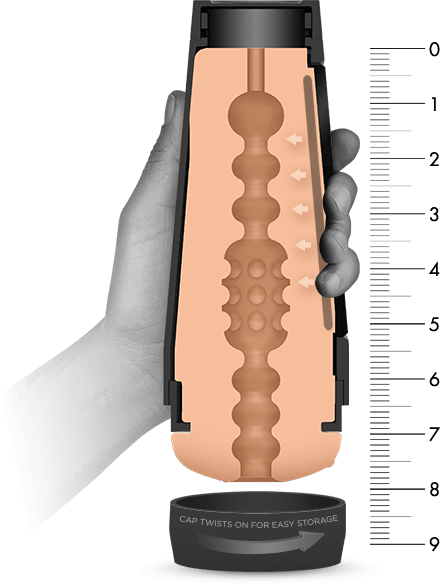 PLEASURE CONTROL IN THE PALM OF YOUR HAND
APPROXIMATE PRODUCT DIMENSIONS:
TOTAL LENGTH - 7.5" (19.05 cm)
USABLE LENGTH - 7.5" (19.05 cm)
WIDTH - 3" (7.62 cm)
CIRCUMFERENCE - 9.5" (24.13 cm)
UNLIKE OTHER HARD CASE STROKERS ON THE MARKET, OUR UNIQUE SQUEEZE PLATE DESIGN ALLOWS YOU TO PRECISELY CONTROL THE PRESSURE WHILE STROKING
AIRTIGHT END CAP TWIST TO CONTROL SUCTION
LOOSEN CAP TO ALLOW AIRFLOW AND DECREASE SUCTION
TIGHTEN CAP TO CREATE INTENSE SUCTION WHILE YOU STROKE
A STRONG EXTERIOR CASE AND SCREW-ON TOP KEEP IT CLEAN, DISCREET AND CONVENIENT FOR TRAVEL.
PLAY PRODUCT VIDEO